Our Mission:
We Deliver.

Problem Solved.™
Statement of Values:
Apply the highest standards of compliance and integrity, and the highest principles of ethics to servicing our customer.
Apply the highest standards of excellence and personalized customer service to both our internal and external customers going above and beyond the call of duty in terms of research, communication, anticipating needs and exceeding expectations. Strive to continually educate in the spirit of partnership, enduring relationships, and mutual growth.
Recognize that professionalism, diligence, discipline, attention to detail, prudence, hard work, and quality performance are essential components in the way we do business.
Maintain economic strength, long term viability, and growth by achieving targeted goals and objectives.
Embrace and salute creativity, flexibility, innovation, resourcefulness, and practicality as key components to our success.
Continually work to develop, challenge and inspire all of our employees to grow individually and with the Company. Promote employees to question openly and demonstrate individual initiative, recommending ideas to improve internal processes and procedures as we strive for innovation. As well, encourage employees to cross organizational boundaries in order to both provide the employee with additional challenges and to better service our customer.
Provide a great work environment, treating each other with respect and dignity. We are all part of the Shapiro family, supporting strong teamwork, sharing a mutual drive towards excellence, and recognizing the importance of striving to achieve work-family balance.
Have a strong sense of social responsibility, contributing positively to our communities in which we live.
A Family Tradition
We've been told we're "quirky," but we're also fiercely proud. For over a century, Shapiro has been the gold standard of regulatory compliance, international freight forwarding, and exceptional customer service.
Why? Because we care.
100 Year Legacy »
Webinars
Ship Smarts
Shapiro: Cut the Ship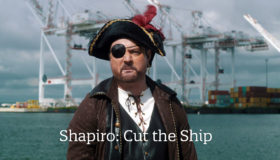 Learn More
September 2020
S
M
T
W
T
F
S
« Jun
1
2
3
4
5
6
7
8
9
10
11
12
13
14
15
16
17
18
19
20
21
22
23
24
25
26
27
28
29
30