Recommended Vendor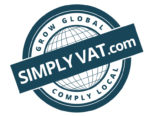 SimplyVAT.com
Money Services
SimplyVAT.com's customer focused, personalized approach guides your business through the VAT registration and VAT return filing processes to ensure you are compliant in each market that you trade in. Your dedicated client manager ensures cross border trading compliance is efficiently managed on your behalf in any of the 28 EU countries and from any sales channels. Our ethos is to help ecommerce businesses grow and become sustainable by supporting and educating our clients with your international VAT compliance obligations.
In all 28 EU countries and Canada, SimplyVAT.com offers: VAT and EORI Registration, VAT Return Preparation and Submission, Monitoring and Reporting Distance Sales Thresholds, VAT Consultancy.
---
Industry | Category:
What can we help you find?