Food for Thought: Are Your Section 301 Exclusions Approaching Their Expiration Date?
As of April 1, 2020, the United States Trade Representatives (USTR) has published 28 rounds of Section 301 exclusions covering Lists 1, 2, 3 and 4a products. The exclusions include more than 1,750 possible items that, if produced in Mainland China and imported into the United States, may be eligible for an exclusion from the additional Section 301 duties imposed on many finished goods.
---
Do 301 Exclusions fit in your pantry?
Before you can begin utilizing a product exclusion, you must first determine if your item is a product specific exclusion for full HTS subheading. Similar to the Miscellaneous Tariff Bill (MTB) for duty reduction, product specific exclusions require that the HTS subheading meet the excluded HTS code provided by the U.S. Trade Representative (USTR), in addition to the specific description of the product. This means that if your item matches the HTS, but does not meet the description provided, you do not qualify for the exclusion.
Like most things in your pantry, Exclusions have a limited shelf-life!
Please be aware of the expiration dates for each list; they are not all the same!
Each product excluded from Lists 1 and 2 only has a one-year shelf life from the date it was published in the Federal Register (FR).
List 3 exclusions have been handled differently from the first and second lists. Instead of a full year, the USTR set an expiration date of August 7, 2020 for all List 3 exclusions. That's a lot of expiring ingredients come August…!
Similar to the first list, List 4a exclusions are set to expire one year from the date the additional duties were implemented. This means that List 4a exclusions are retroactive from September 1, 2019 and extends to September 1, 2020.
If you have imported items from List 1 on or after July 6, 2018, from List 2 on or after August 23, 2018, List 3 on or after September 24, 2018 or List 4a on or after September 1, 2019 that are eligible for an exclusion, then you are able to request a refund of the additional duties paid by submitting a post entry correction (post summary correction (PSC) or protest).
Be mindful that there are specific deadlines to file PSCs and protests; time of entry and time of liquidation dictate what type of post entry correction is required and whether or not it is able to be submitted at all.
---
Does the chef (you) have a say in the matter?  
Of course, you do!
The USTR is asking the trade community at-large to submit comments on previously granted exclusions prior to their planned expiration date. They are seeking comments from importers and other interested parties to determine if the imposition of duties will result in sever economic harm.
Much like recipes, not every exclusion will have the same result. All product exclusions are evaluated on a case-by-case basis but can be extended for up to 12 months from the date of the FR publication (if granted).
Click here to access our Section 301 Exclusion Comment Cheat Sheet.
---
What ingredients does the Exclusion Recipe call for?
The better the ingredients, the better the food!
During its evaluation, the USTR is looking to see if the product is available in the U.S. or a 3rd country, if any changes were made to the global supply chain since July 18, 2018 with respect to the product in question and if any efforts by the importer or purchasers to source elsewhere have occurred?
When submitting a comment, you are encouraged to submit Form A which covers information to be shared publicly on the portal. The information includes, but is not limited to: contact information; the article description and classification; support or opposition to extending the exclusion and the rationale; if the product can be produced elsewhere; and if the item is subject to anti-dumping duties or countervailing duties.

You are also asked to complete Form B for business confidential information (BCI). The information includes, but is not limited to: the description of efforts made to source elsewhere; the value and quantity of products of Chinese origins covered by the exclusion within the specified time frames; if the parties are related; if the Chinese supplier has issued a lower price due to the trade remedy; the value and quantity of domestically produced or 3rd country produced goods; gross revenue for 2018 and 2019; and an explanation as to why or why not this exclusion will cause severe economic harm.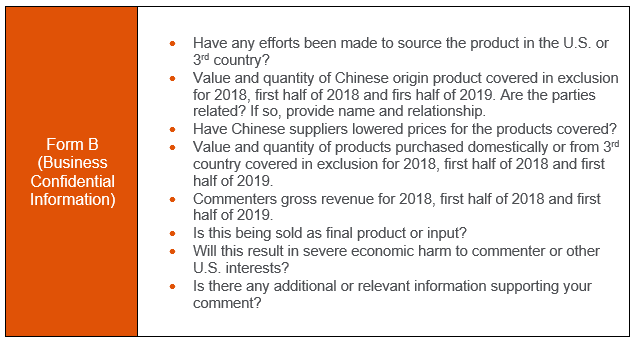 ---
How long is the Prep time for commenting?
Every round of exclusion is granted a 30-day comment period for extension consideration beginning 60 days prior to the expiration of the exclusion.
If you don't have every round of the exclusions memorized, don't fret! You can find a breakdown of each round here: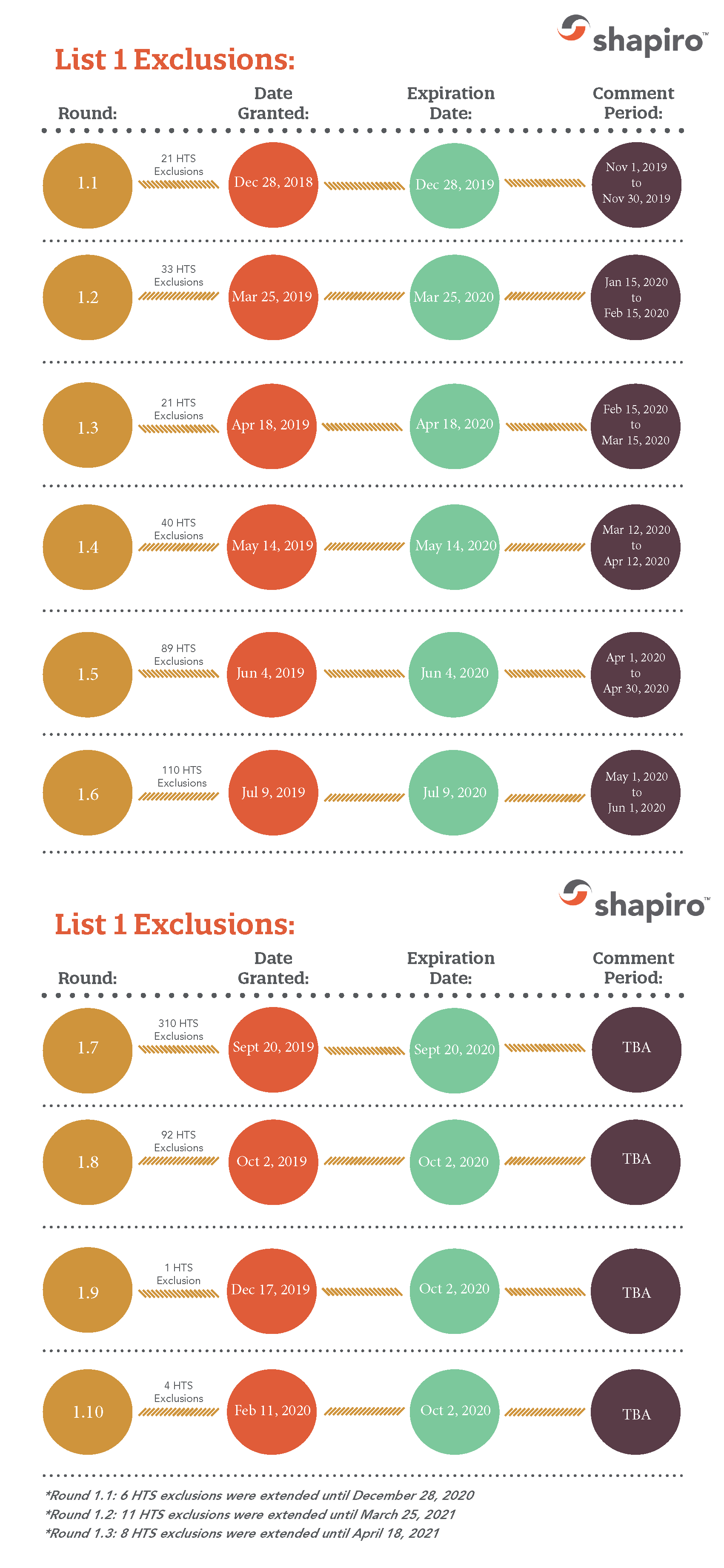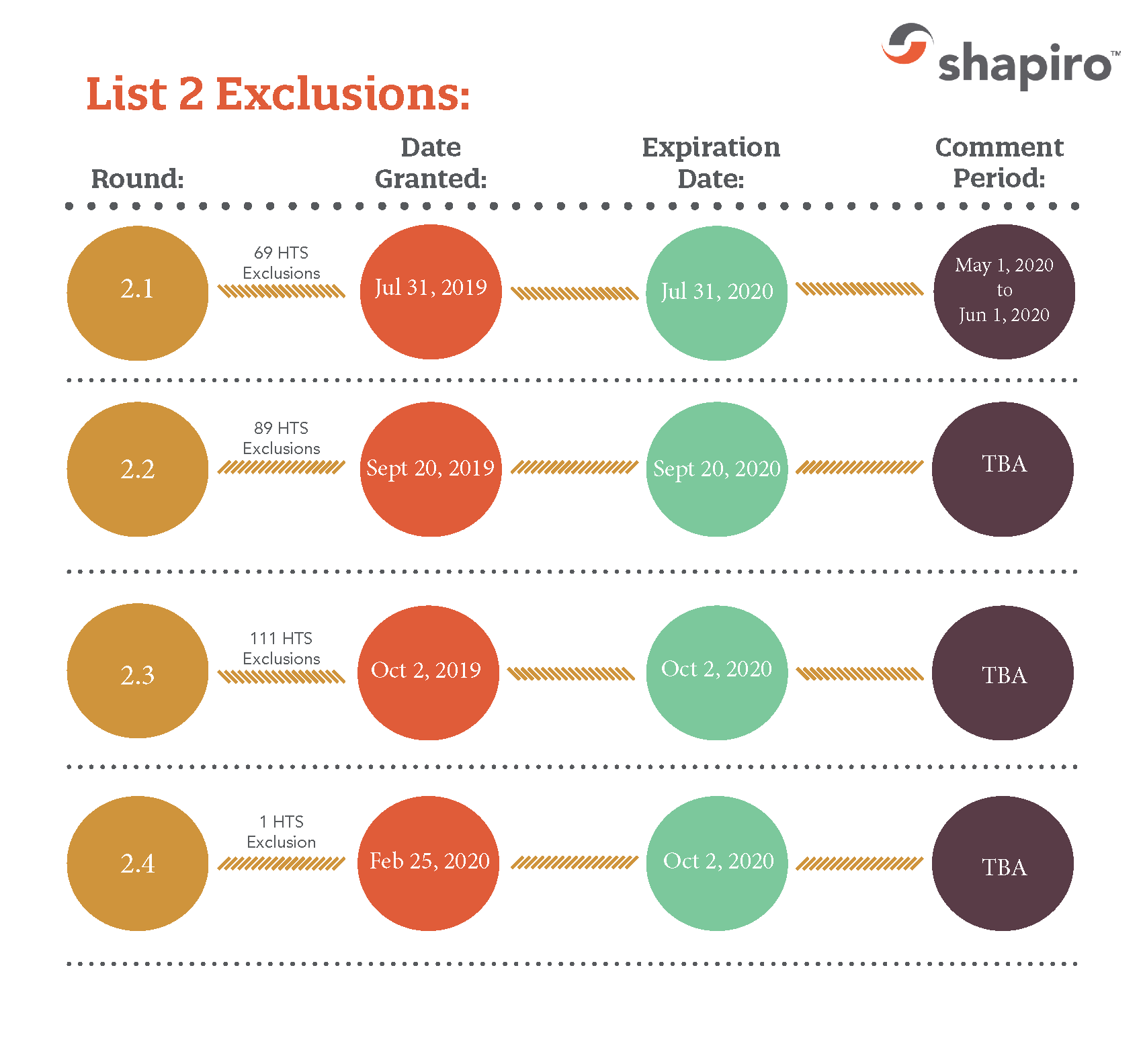 ---
But what makes this important information so Appetizing?
It is the perfect opportunity to not only tell the USTR the negative effects of the additional duties, but to show them.
One classic question we get asked all the time is should we import now or wait?
By monitoring the status of the Section 301 exclusions, you can better forecast for your future imports in both operational and financial planning. We know all too well that additional 25% or 7.5% duties can severely alter your budgeting estimates for your future.
By knowing the ins and outs of each exclusion expiration, you will have a better idea of when cargo should be imported – which can be hugely beneficial financially.
Believe us when we say that no one wants (or likes) expired goods.
What are you waiting for…? Let's get cookin'!
Want to receive exclusion updates? Click here to subscribe to our Section 301 Exclusion Monitoring alerts!

Get Shap Blog via Email
We've got you covered - sign up and get the latest blog posts delivered right to your inbox.