Introduction
In a world where global commerce never sleeps, we know how important it is to stay up to date on shipping rates. We strive to provide you with the latest intel on ocean, air, and drayage rates, while also providing a bit of zing with some predictions on the months ahead.
---
Ocean Shipping Rates
U.S. Container Import Volume (2020-2023)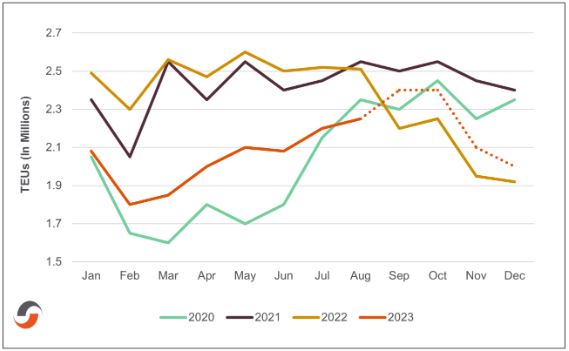 Container volumes rose slightly in August, which matches trends that had been seen pre-pandemic. This suggests that many of the challenges faced in the global supply chain have finally stabilized. Even with the increase in volume, port transit times have remained stable. This is largely due to issues in the Panama Canal and the resolution of the ILWU strikes on the U.S. West Coast.
Volumes are expected to rise in the next few months, followed by a slight decrease in the Winter months. This follows the seasonal trends that typically occurred before the Pandemic, again due to the narrative that the global supply chain seems to have finally regained its rhythm.
Air Shipping Rates
Air Import Rate Trends | JFK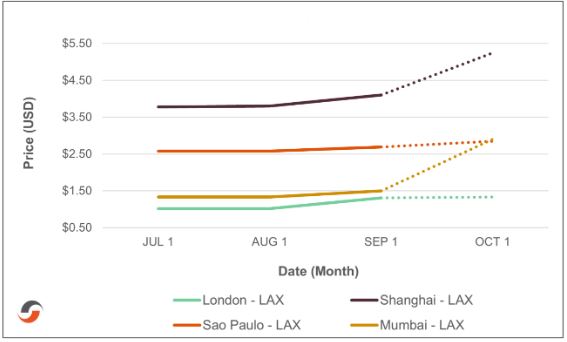 Air Import Rate Trends | LAX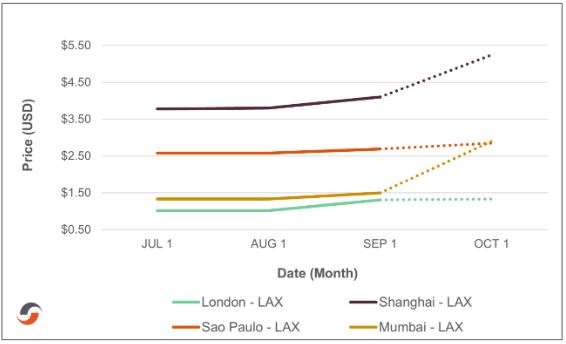 Rates increased in September as the typical holiday shipping cycle begins.
The new iPhone 15 is expected to ship 35 million units, compared to 28 million for the iPhone 14, and will significantly occupy air freight demand for the coming months.
The phones, combined with typical holiday demand, will all but ensure rates will see a spike in October.
An ill-timed surge in fuel prices is also contributing to the forecasted increase in rates.
The largest increases are expected out of Shanghai and Mumbai as they typically experience the highest holiday demand.
Drayage Rates
Drayage Diesel Prices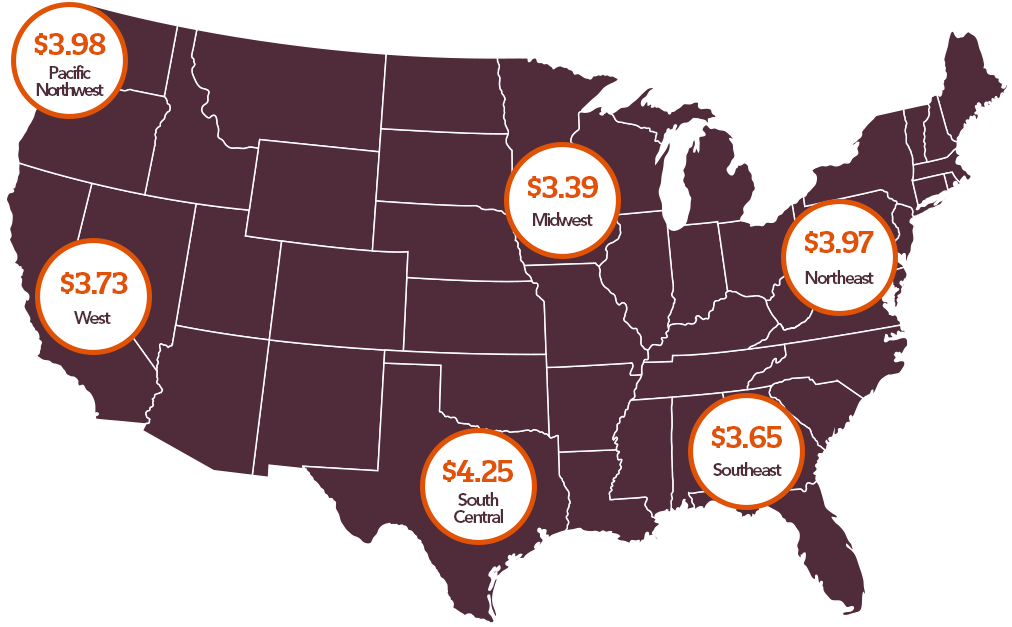 Diesel prices are up for the 7th week in a row; costs are being passed on to importers as drayage rates across the US continue to rise slightly. This couples with the fact that several firms are closing or being acquired by bigger competitors which lowers the available trucks to move cargo.
---
Get More Rate Updates with Supply Chain Reactions!


Supply Chain Reactions: A monthly update of supply chain conditions and rate trends across global markets including the Trans-Pacific. SCR is meticulously curated by our articulate freight fanatics to help you get caught up in the market!
---
All shipping rates are compiled from our pricing team and several public sources that are true and correct to the best of Shapiro's knowledge. We strive to only represent accurate information and data. Shapiro bears no liability or responsibility for these rates as a direct quote or consultation.