Fast Facts about Forced Labor
Section 307 of the Tariff Act of 1930 (19 U.S.C. § 1307) prohibits the importation of all goods, wares, articles and merchandise mined, produced or manufactured, wholly or in part, in any foreign country by convict, forced and/or indentured labor (including children).
As such, the US Secretary of the Treasury is authorized and directed to prescribe any regulations deemed necessary for the enforcement of this provision.
US Customs and Border Protection (CBP) will issue a Withhold Release Order (WRO) following an investigation into forced labor if it determines that the information available "reasonably but not conclusively" indicates that the merchandise is being—or is likely to be—imported in violation of Section 307.
CBP personnel at ports of entry are instructed to detain shipments that contain merchandise suspected of being made by forced labor.
WROs are not an outright ban – importers have the opportunity to demonstrate that the merchandise in question was not made using forced labor.
---
How to Identify Forced Labor
CBP defines forced labor as all work or service which is exacted from any person under the menace of any penalty for its nonperformance and for which the worker does not offer work or service voluntarily. Indentured labor is defined as work or service performed pursuant to a contract, the enforcement of which can be accomplished by process or penalties. This includes forced or indentured child labor.
---

---
According to the International Labor Organization (ILO), there are 11 indicators of Forced Labor:
Abuse of vulnerability
Deception
Restriction of movement
Isolation
Physical and sexual violence
Intimidation and threats
Retention of identity documents
Withholding of wages
Debt bondage
Abusive working and living conditions
Excessive overtime
The presence of a single indicator in a given situation may in some cases imply the existence of forced labor. However, in other cases, you may need to look for several indicators which, taken together, point to a forced labor case.
Overall, the set of eleven indicators covers the main possible elements of a forced labor situation and hence provides the basis to assess whether or not an individual worker is a victim of this crime. Further guidance on how to use the indicators in practice is provided in the ILO e-learning tool on identifying and investigating cases of forced labor.
---
How to Avoid Forced Labor Violations
Importers must address Forced Labor Risks in the supply chain now and be prepared to act immediately if their shipment is stopped. These proceedings can be very costly and time-con
---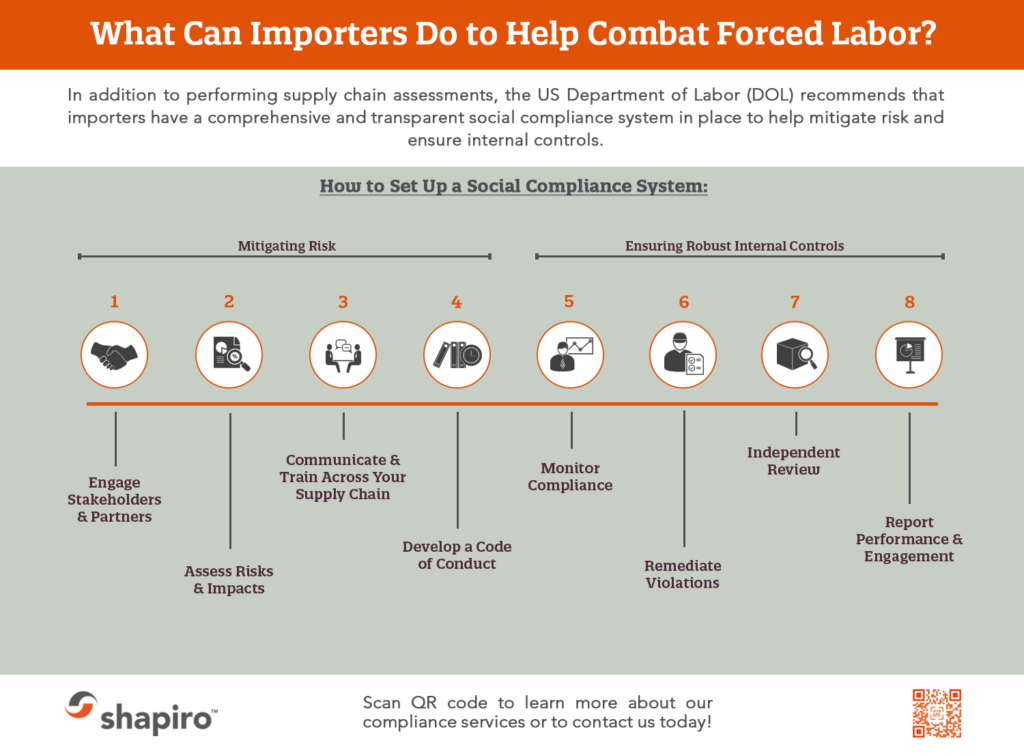 ---
In addition to performing supply chain assessments, the US Department of Labor (DOL) recommends that importers have a comprehensive and transparent social compliance system in place to help mitigate risk and ensure internal controls.
---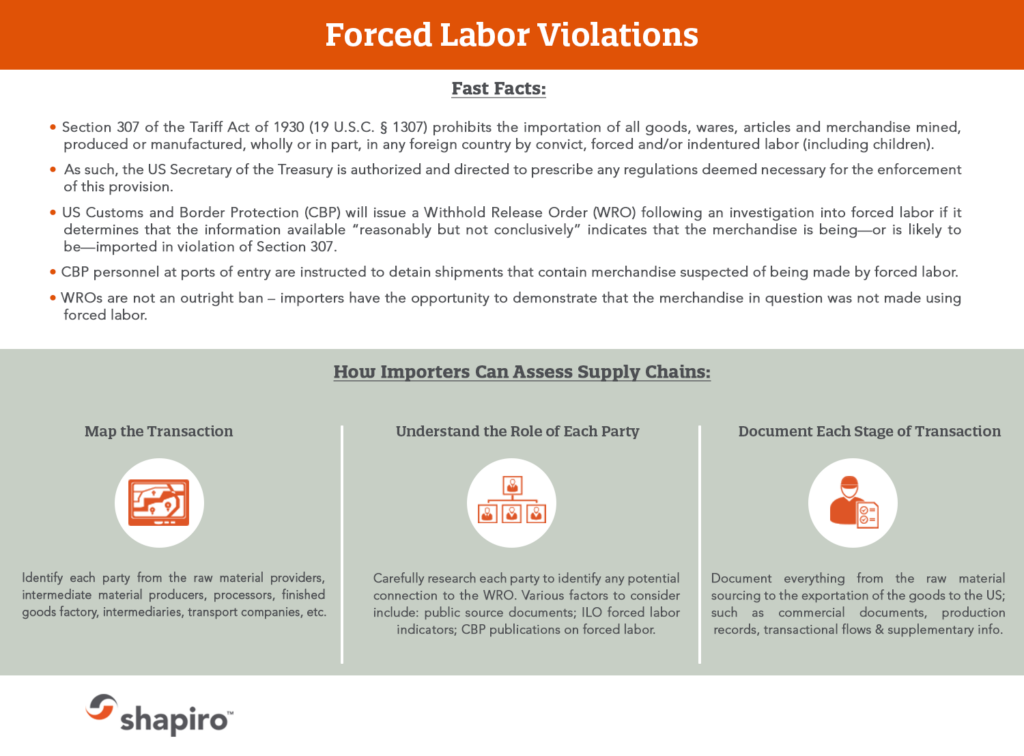 ---
Important things to keep in mind:
The forced labor ban has no exceptions, and no de minimis provisions. Forced labor is a blanket prohibition on goods produced, even in part, with forced labor.
CBP may act on information of any person that knows or has a reason to know goods were produced using forced labor.
All importers are responsible for reasonable care. Please review the section on forced labor (Informed compliance publication on reasonable care.) Be ready to respond to these questions on a CBP Form 28 Request for Information.
There are currently WROs from China, Democratic Republic of Congo, India, Japan, Malawi, Malaysia, Mexico, Mongolia, Nepal, Turkmenistan, Zimbabwe, and even Fishing Vessels.
Forced Labor can happen with any type of good. Goods implicated so far have been: Apparel, Bidi cigarettes, Carpet, Computer parts, Diamonds, Furniture, Gold, Hair Products, Palm oil, Rubber gloves, Seafood, Stevia, Toys, and Video games.
Companies that are unprepared to comply may face serious financial consequences, along with serious delays of their products.
---
Helpful Resources on Forced Labor Violations
---
Questions? We are here to help! Please do not hesitate to contact your Shapiro branch office or [email protected] or visit our Regulatory Compliance service page.