Everything You Want to Know About Freight Forwarding … But Are Afraid to Ask
You run a business. Maybe it's large. Maybe it's small. Either way, there are far too many follow-ups and tasks on your desk. (Just LOOK at your desk for heaven's sake.) Inventory. Market trends. Human resource issues. Federal regulations. That forgotten anniversary! You simply can't be and shouldn't be an expert in every field.
Take a mental walk through your shipping department. Terms such as "general average," "deconsolidation," "terminal congestion", "total cargo velocity," "average utilization factors" and "container allocations" will swirl around your head like water flowing down a drain– and you may feel a bit like you too are traveling down that dark and ominous drain. You probably think you should understand every one of those swirling terms and hundreds more. Yet, how can you? There are just too many other demands on your time and attention. Don't forget, you are running a business here.
So, let's bring you up to speed on just one of them — a term that's vital to your success as a business: freight forwarding. If you manufacture or sell almost any product imaginable, you've probably heard the term. But, what exactly does it mean? Do you need a freight forwarder? What are you paying a freight forwarder to do? If you've ever asked yourself these questions, take a peek inside our nutshell below.
A Freight Forwarder That Delivers
A freight forwarding company arranges and tracks the transportation of the goods you manufacture or sell. That may seem simple enough, but there are many components to this highly complex operation. So, let's dig in.
A freight forwarding firm is also referred to as a non-vessel operating common carrier or NVOCC. Yikes! What a mouthful. Let's stick with freight forwarder, OK? A freight forwarder specializes in arranging the import and export of goods — covering all aspects of that process from the moment the product leaves the manufacturing site until it is safely in the hands of the wholesaler or end consumer. This can include arranging for the storage of your merchandise between the different legs of shipment. It always involves tracking the transportation process; expediting and checking all the necessary import and export documentation; negotiating shipping fees; procuring cargo insurance when needed; and booking cargo space on trucks, trains, planes, and ships.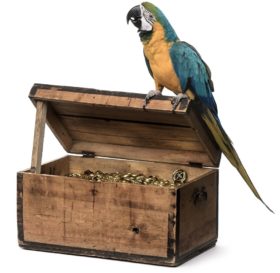 Other services that freight forwarding companies offer include providing the necessary air waybills or bills of lading, fee collection services, arranging fumigation and/or quality inspections, and consolidating and deconsolidating freight shipments to minimize costs while maximizing efficiencies.
The logistics of handling freight can be complicated by the nature of the product. Is it time-sensitive? Perishable, perhaps? Does it need special packaging or handling? The professional freight forwarder weighs all of these variables when designing and executing the best, most cost-effective shipping plan — one that ensures the product arrives in a timely manner and in pristine condition.
Shapiro Gets It Done:
Our Freight Forwarding Services
Looking for a freight forwarding partner? Shapiro is an excellent answer. Whatever your transportation needs, we'll get it done. We're there for you — from the start of your shipping process until the end. We have the expertise to ensure that every aspect of your shipping process is handled professionally and with care. Your business is paramount to us; that means your business matters every bit as much to us as it does to you.
Our customized freight forwarding services include:
Foreign-to-Foreign Shipping
Logistics Design
Air Cargo Services
Door-to-Door Services
Emerging Markets Logistics
Cross-Border Shipping
Consolidation and Deconsolidation
Sea-Air and Air-Sea Shipments
Project Cargo
Charters
Our team of export and import experts also provides:
Access to 15+ Contracts and EVERY Alliance
The Buying Power of Combined Importers' Volumes
Flexible Weekly Allocations
In-Depth Knowledge of the Ocean Carriers and Their Financial Health
Fair, Transparent Pricing
Creative Solutions During Times of Chaos
Are you looking for help getting your products to market? You've come to the right place. Call us today, then move on to more important tasks. We'll handle the rest.
Shap Tube
Ship Smarts
Shapiro: Cut the Ship
Learn More