The Goliaths like to boast that their Purchase Order Management (POM) products are all-inclusive tools, but what they're really giving you is a big ole' box. If your company has felt the pinch of bait-and-switch or is simply seeking vendor transparency, we invite you demo Shapiro's P.O. Management Plus (POM+) service.
Your data doesn't belong in a box.
---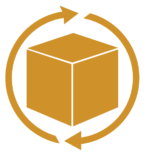 With Shapiro's POM+ module, even your most unsophisticated suppliers will provide you with real-time updates and booking information through our easy-to-use web portal. Information entered into the portal is easily evaluated through the lens of your metrics and your report cards, and it holds all players accountable.
P.O. Management Plus Features:
Centralized hub for communication and order management
Collaborative on-boarding implementation: SOP, technical training, support
Commercial document collection, scanning, and imaging
Load efficiency maximization
Booking, shipping, and tracking reports
Customized dashboards
Regulatory compliance and documentation reporting
Carrier data reporting
Customized EDI mapping
Validation of bookings against POs and business rule requirements
Order quantity visibility and validation
Exception reporting
Purchase order visibility reporting
Supplier scorecards
Chargeback program support
Purchase order distribution, tracking and acceptance
Milestone development, design and management
Upstream tracking and visibility of milestones
Consolidation loading management by PO, item
Move "freight forward." Contact Us.