Low Sulfur Surcharge: High Confusion and High Costs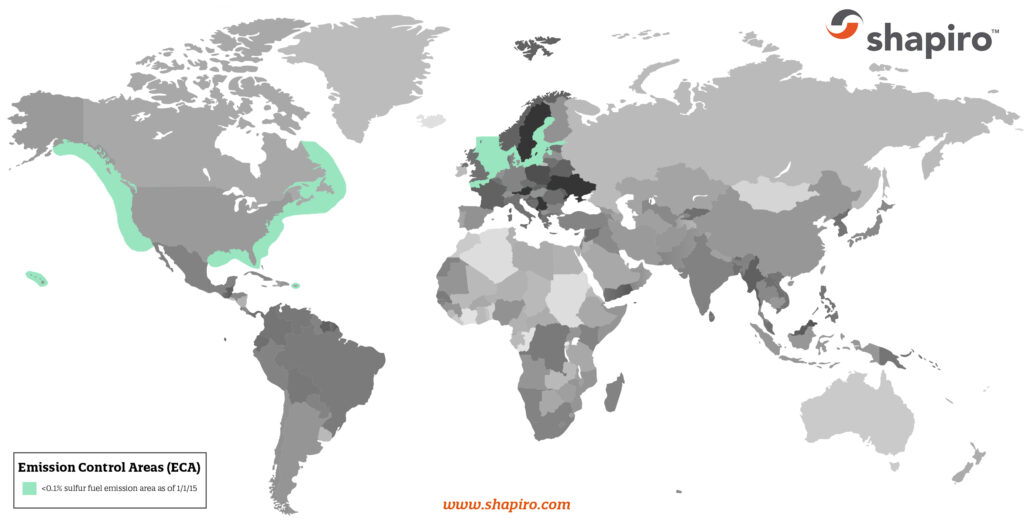 The maritime industry has been through quite a lot in the past few years, from carriers leaving the chassis business, to U.S. East and West Coast labor issues, to the introduction of mega-vessels, to atypical peak seasons, and rate fluctuations. And yet, another surcharge is about to take center stage. Say hello to the Low Sulfur Surcharge.
What is it?
Known by many names, the Low Sulfur Surcharge (LSS), Low Sulfur Bunker Surcharge, or Low Sulfur Fuel Surcharge (LSF), stems from an International Maritime Organization (IMO) regulation initially agreed upon in 2012 to reduce the amount of sulfuric fuel emissions being burned by cargo vessels near ports and populated coastlines.  High sulfur content fuel contributes to a significant amount of sulfur dioxide emissions, known to be hazardous to public health.
Starting January 1, 2015, carriers will require vessels traveling through designated Emission Control Areas (ECA) to use fuel with sulfur content of 0.1% or less, a drastic decrease from the 1.0% concentration fuel used in maritime shipping today.  Emission Control Areas (ECA) that will begin enforcement in 2015 include the Baltic Sea, English Channel, North Sea, and 200 nautical miles off of U.S. and Canadian coasts.
Compliance
Carriers can comply with ECA regulations through two options: switching to low-sulfur marine gas or buying a "scrubber."  Low sulfur emission fuels are highly filtered and can cost up to four times that of regular bunker fuels.  Scrubbers can cost up to $14 million USD for a large vessel and take up to two years to install.  Some have pointed to liquid natural gas as a third alternative; however (and somewhat ironically) the natural gas supply chain is not yet stable enough to meet the demand and vessels would still need expensive retrofitting.
The issue of compliance is also in debate.  Enforcement is in the hands of each European Union member country, and so are penalties.  Fines have not been announced, nor has a monitoring procedure to ensure compliance.  Penalties could range from fines all the way up to vessel detention.
Low Sulfur Surcharge Fees
Now that you know what the LSS is, let's break down how this charge is going to be levied and how much it's going to really cost.  Maersk estimated regulations will result in over $200 million in fuel cost increases per carrier.
To keep things interesting, the LSS charge is not a fixed amount; it varies by carrier and routing, ranging from $30 to $110 per 20'container and $60 to $220 for a 40' container.  Drewry Maritime Research compiled LSS charges in the following handy chart:
Routing

Low Sulfur Surcharge Range 

(Based on FEU, in USD)

Northwest Europe/New York
$50-150
Baltic/New York
$150-260
Northwest Europe/Savannah
$100-200
Baltic/Savannah
$150-300
Northwest Europe/East Coast, Canada
$80-260
Baltic/East Coast, Canada
$180-370
China/Northwest Europe
$30-50
China/Baltic
$130-150
China/West Coast, US
$35-150
China/East Coast, US
$50-60
At the moment, the biggest problem for carriers are high-volume, direct contracts with 'no surcharge' clauses.  How they will make up for the deficit is undetermined at the moment; however, shippers may have the charge added to their contracts depending on the terms, or applied to their current bunker charges.  For non-direct contracts, the charge will either be included in an all-in rate, or listed as a separate line item.
With so much information still up in the air, no pun intended, it's important to look at this situation from all sides.  Yes, shippers are tired of increasing costs and turmoil, but, in this case, carriers are also facing higher operational costs.  What should bring us some comfort is that, at the end of the day, all of us will benefit from a cleaner, healthier environment.
Do you have any concerns about this new surcharge?  Talk to us below by leaving a comment.
Love this blog?  Click here to subscribe with only your email address.