Shapiro Represents NVOs, Applauds Federal Maritime Commission (FMC)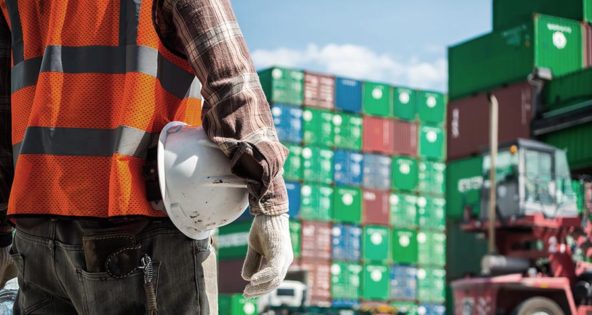 Shapiro, the 102-year-old leader in international logistics and Customs brokerage, welcomed 23 staffers of the Federal Maritime Commission (FMC) to their offices on May 18, 2017, as part of an FMC visit to the Baltimore port area.
The FMC's delegation was comprised of a diverse representation of the agency's departments, including individuals who work in the Office of the Chairman, a Commissioner's office, Office of the General Counsel, the Bureau of Trade Analysis, and the Bureau of Certification and Licensing.
The day trip started with a tour of a roll-on/roll-off vessel and a visit to a local importer.  Shapiro, a freight forwarder and ocean transportation intermediary (OTI), was the next leg of the journey. Shapiro's Directors of Supply Chain and Transportation, Angela Czajkowski and Matthew Kobussen presented to the visiting group.
Shapiro detailed the structure of an international agent network, the non-vessel operating common carrier (NVOCC) operations process, role of technology, as well as an overview of the industry, its progress, and a look to the future.  The Shapiro presentation included discussions about the effects of steamship alliances, mega-vessels, U.S. infrastructure, and intermodal developments on the importing and exporting communities.
"The Commission is always interested in learning from those involved in the supply chain and this was an excellent opportunity to hear from one such stakeholder," stated an FMC representative.
The FMC is responsible for regulating the nation's international ocean transportation for the benefit of exporters, importers, and the American consumer. The commission's mission is to foster a fair, efficient, and reliable international ocean transportation system while protecting the public from unfair and deceptive practices.
"Shapiro is honored to host the FMC's freight forwarding/OTI delegation," said Margie Shapiro, Shapiro's third-generation owner and President.  "One of our core values is to continually collaborate with the trade in the spirit of partnership, enduring relationships, and mutual growth – and that includes regulatory bodies, customers, and vendors.  We applaud the Federal Maritime Commission's commitment to staying connected with the industry and the stakeholders they regulate."
Aw, Shucks...
Our clients say some very nice things about us. We might be a little embarrassed if we weren't so proud. We're so lucky to work with such great folks each and every day. Read what they have to say.
Our Testimonials »