The Secrets of Importing Your Amazon Product – Q&A!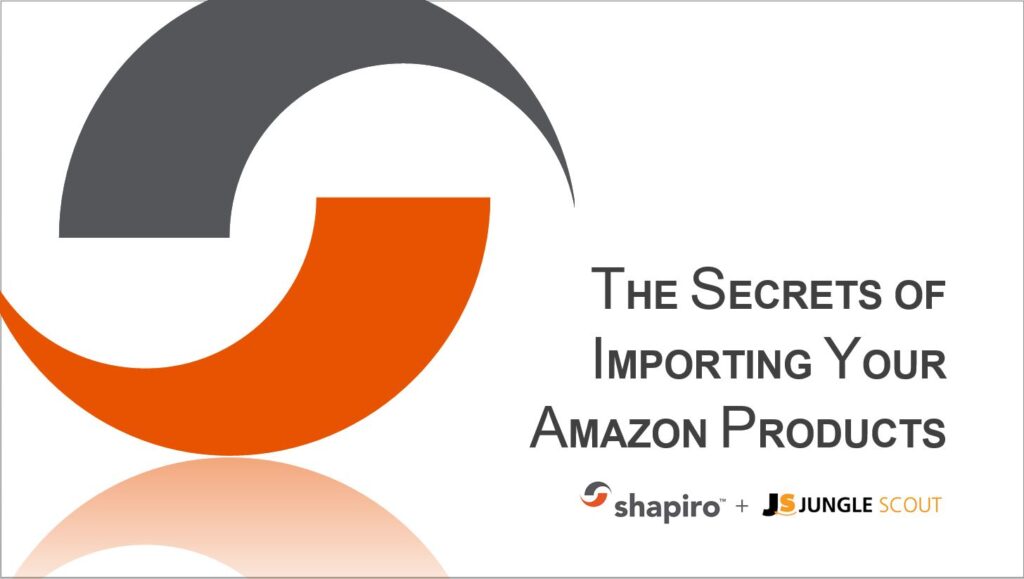 If you are (or plan to be) an Amazon seller importing physical goods from overseas, we hope you took some time watch our Secrets of Importing Your Amazon Product WEBINAR hosted by Shapiro's very own FBA Manager, Nicola Phillips Malaney.
In case you didn't get your fill of logistics goodness during the webinar, we're back to help answer some great additional questions from the attendees.
Let's see what other FBA Sellers wanted more information on:
Shipping to Fulfillment Centers (FC): LTL (less-than-truckload) means pallets, which means just one FC per pallet, right?
Yes, we can break down pallets here in the U.S., but they would have to subsequently be made smaller pallets to deliver correctly.  Each pallet can only contain one FBA Shipment ID. If the pallet contains mixed SKUs, it must be labeled as such. Unless the goods are fragile and need the extra protection of a pallet during ocean/air transit, most sellers send their pre-labeled boxes loose, and our truckers handle palletizing prior to delivery. Of course, if your supplier can put the goods on the proper pallets at origin, this will save you a little bit of time and money.
Can I import Bluetooth products as private label using the manufacturer's Bluetooth license, or do I need my own company license?
Unfortunately, questions regarding licensing, branding or intellectual property rights are beyond the scope of this segment as they require in depth consulting. Our skilled Compliance team would be happy to work with sellers on an individual basis to help them determine the specific requirements for their situation. It should be noted that devices including Bluetooth technology (or any products that emit radio signals) will require clearance by the Federal Communications Commission (FCC).
Is it a bad idea to let the supplier handle shipping, especially if Amazon is my only sales channel?
Not always, but if the supplier uses a very cheap forwarder, the customer service will suffer and they may not route the freight efficiently. The supplier will probably only ship it to the closest port to them, which isn't necessarily the most efficient way to ship, depending on the final destination. The supplier isn't worried about making you pay an arm and a leg for domestic trucking!
Generally, if they ship it to the port, the arrival/destination charges are yours to pay, and these are generally not known until the freight arrives. If you arrange your own forwarding, your forwarder should be able to advise the charges front so you can build them into your pricing model.
I am Private Labeling a toy and the plant has an ASTM certificate for the product in its original state, however, we are branding under our own name.  Will I require the testing to be done for our product as well?
This is another example of a question that requires individual consulting. The Consumer Product Safety Commission (CPSC) regulates products like toys, and they should be contacted directly for questions concerning testing.
Can you give me an example of you doing a bit of research on prices to see what's cheaper?  A comparison of ocean vs. air and the sub-methods of these two?
As much as we'd love to, it's really not possible to provide any sort of pricing based on these minimal details. The value of the cargo really does not have an effect on shipping prices; the value of your shipment determines if a formal entry should be filed.  The distance, volume and weight of the shipment are the three main factors used to determine cost. We suggest you get this information together, register the shipment on Seller Central (so Amazon can determine where it has to go) and then contact us directly for a shipping quote. We'd love to help!
Can you ballpark the difference to ship to Long Beach, Atlanta, or New York from Ningbo? is it cheaper to land cargo in California and truck it, or ship directly to the East Coast? 
Just as I stated in the previous question, we really need more details than this in order to provide useful pricing data. The cost to get it to the port is only one part of what you'll pay and in order to get the bigger picture, we have to consider the transportation to the final destination as well. I can tell you that trucking a few pallets or a full container's worth from California to the East Coast will be extremely expensive. Our pricing team will take a look at all of your details, and will gladly provide you rates on East vs. West Coast solutions.
FOB vs. EXW? Which is preferable/more cost-effective? Does Shapiro offer to pick up from the Chinese manufacturer and load on board when incoterms are EXW?
When your incoterms are Ex-Works (EXW), Shapiro can absolutely arrange to pick up the freight directly from the factory. You will be responsible for those transportation charges, as well as all charges associated with exporting the goods. If your terms are Free on Board (FOB), your supplier will be responsible for bringing the goods to the port and handling origin charges, but they will factor these into the price you pay per unit.
Whether or not one or the other is cheaper for you depends on what the supplier would charge you for FOB versus what your forwarder will charge you for EXW.  When you receive an EXW quote from Shapiro, you can easily identify the EXW costs and compare those to the FOB rate from your supplier and see what works best for you – ensuring you understand the terms of sale you have negotiated is paramount to a smooth export process
Can you explain shipping marks and what instructions should be given to Chinese manufacturers?
Absolutely! When shipping to the U.S., the following marks should be clearly printed on the master shipping cartons:
Carton count
Carton # (total)
Net weight
Gross Weight
Tracking # (if other than FBA label etc)
Country of Origin
If you are shipping on wooden pallets, the pallet must have the appropriate marking showing that it was either fumigated or heat treated. This is a sample of what the marking looks like.  A fumigation certificate or statement on the paperwork will not be accepted by Customs or USDA, only the stamp on the pallet itself is evidence of compliance.
Where can I get more info on having the manufacturer ship directly to Amazon? What is needed? Or do most manufacturer know what to do?
I would never assume that most manufacturers know what they are doing when it comes to shipping directly to Amazon. Furthermore, it should never be assumed that a manufacturer is familiar with exporting in general, so it's important to talk to them about this so you're not blindsided when they can't provide an export license and your shipment gets held up overseas.
If your manufacturer is arranging the shipping, you'll need to ensure that they are handling the packaging and documentation correctly.  For example, for FBA shipments, Amazon must not be named as the consignee on the bill of lading. The consignee in this case would be you, the FBA seller. Amazon is purely the receiving party, or ultimate consignee. If the documentation is wrong, this will delay your Customs clearance and there are generally costs associated with amending shipping documents.
If your supplier is arranging the shipping, you'll need to ensure that they are arranging the freight to the appropriate port. For example, if your final destination is in the Midwest, moving the goods through L.A. and clearing Customs in Chicago may be a more cost effective option than trucking it from the port.
From our experience, most manufacturers will select the cheapest method of shipping, leaving you to manage the rest. Keep in mind, if you're not in control of choosing the freight forwarder, you'll need to coordinate with whoever your supplier chooses as well as your broker, creating a lot more coordination and work for you. To keep it simple, controlling the shipping and choosing a logistics partner that can provide forwarding and clearance services will make your life much easier!
Does Shapiro provide brokerage service?
You bet we do! Shapiro is staffed with licensed Customs brokers who are ready to handle your most complex commodities.  In fact, we've been doing it for over 100 years!  We can even teach you how to create the perfect commercial invoice.
What is the cost of a continuous bond?
If you purchase your bond through Shapiro, the price is $625 for the first year and $550 each year thereafter. Don't worry, we won't let you forget to renew it!
When is a Lacey Act declaration required for importation of a wood product?
The Lacey Act is a regulation under the Animal Plant Health Inspection Service (APHIS), which is a division of the U.S. Department of Agriculture (USDA).  The requirements are based on the Harmonized Tariff System (HTS) code for your product. If your product contains any plant components, you'll want to check with a licensed Customhouse broker to see if you'll be required to provide additional information to satisfy the Lacey Act requirements. The USDA is constantly updating which HTS codes fall under the Lacey Act. Information requirements that are reported are the genus, species and country of harvest of the wood used in the product.
In your experience, is it a good idea to send product straight to Amazon? Or would it be much better to send it to an inspection center first?
Great question! This is really contingent upon your relationship with your supplier. If you can trust that they are providing quality goods and packaged correctly, then shipping directly to Amazon is going to save you time and money. However, if you're unsure of this, it may be best to intervene before the product gets to Amazon. We know how damaging a poor customer review can be to your seller ranking, so it may be better to begin by having a quality check system in place, and as you grow more confident in the product, eliminate this step from your supply chain.  Just remember that not all manufacturers and products are the same, so if you're rotating products often – beware.
Can you tell me the best method of shipment and customs for a first time importer? We don't want to handle all of the confusing and detailed paperwork.
Wouldn't it be great if shipping and Customs clearance were simple and easy? There would be no need for freight forwarders and Customs brokers! Wait, that means we'd be out of a job!
The truth of the matter is, importing will generally involve some level of detail. Sending small, low value shipments of goods that don't require additional clearances via courier is probably the easiest way – but it won't be the most efficient once you need to ship larger quantities.
If you make the decision to import, you'll need to understand that with that comes responsibility and yes, paperwork. Choosing a logistics partner that takes the time to explain why certain paperwork is required, and how the whole process works can certainly make the process easier for you. There is certainly a learning curve when it comes to importing, but if you stick to quality partners, you'll get the knack for it in no time,
Where can I find information on regulations for the commodity I'm importing? Duty rates, FDA requirements, etc.?
While some information can be found online, talking to a licensed broker is the only way to get accurate information that you can rely on. There's a reason that licensed brokers have to pass a grueling, multiple-hour exam before being allowed to provide classification guidance! This stuff is complex!
When it comes to other government agency regulations, most brokers can give you enough information to get started, but it's recommended that you work directly with the agency directly to make sure you know exactly what they require. Shapiro is happy to point you in the right direction!
If we use Shapiro's services do we need to provide an EIN?
If you have already established an Employer Identification Number (EIN) or U.S. Tax ID, sure, we'll take it!  However, if you're based overseas or simply operating as an individual, don't worry! We can help you obtain a Customs assigned number, in lieu of an EIN.
There's really no additional work you need to do for this, but it's important to remember that once you are on record with Customs with either your EIN or a Customs assigned number, making changes will require more paperwork and usually some sort of fee.
Does DDP shipping require a forwarder?
DDP is the incoterm that stands for Delivered Duty Paid. In this scenario, the seller of the goods is responsible for the freight all the way up until delivery, including paying for duties. If you're shipping to Amazon using a small parcel courier, you'll want to ensure you are using DDP terms of sale so the courier does not attempt to charge Amazon for anything. They surely will not pay! If you need to move goods from overseas and the shipment is too big for a courier, then either you, or your supplier will need a freight forwarder, no matter what your terms of sale are.
Get a Freight Forwarding Quote
Hopefully we've covered enough bases to get you started, but we're happy to help you get your supply chain in ship-shape, whichever way we can!
Reach us directly at [email protected]
. We'd love to hear from you!
We'd also like to thank our sponsor, Jungle Scout, and encourage you to check out their RECAP of the Secrets of Importing Your Amazon Product webinar.