Featured Headlines:
FDA Announces New Industry Portal for FSVP Records Submission
Additional 301 Tariffs Suspended for 6 Countries in the DST Investigation
GSP Program and MTB Set to Renew in Trade Act of 2021; Includes China Legislation and CBP Counterfeits Amendment
FDA Enters Second Phase of AI Imported Seafood Pilot Program
Looking for a Supply Chain Partner to 'Flash' You?
Carriers Skip 'Second Tier' Ports Due to Severe Congestion
ATL Airfreight Gets a Facelift (and a Forklift!)
Suez Canal Expansion Project Underway to Prevent Further Blockages
Our Expert Shapinion - We Help You Get Your Ship Together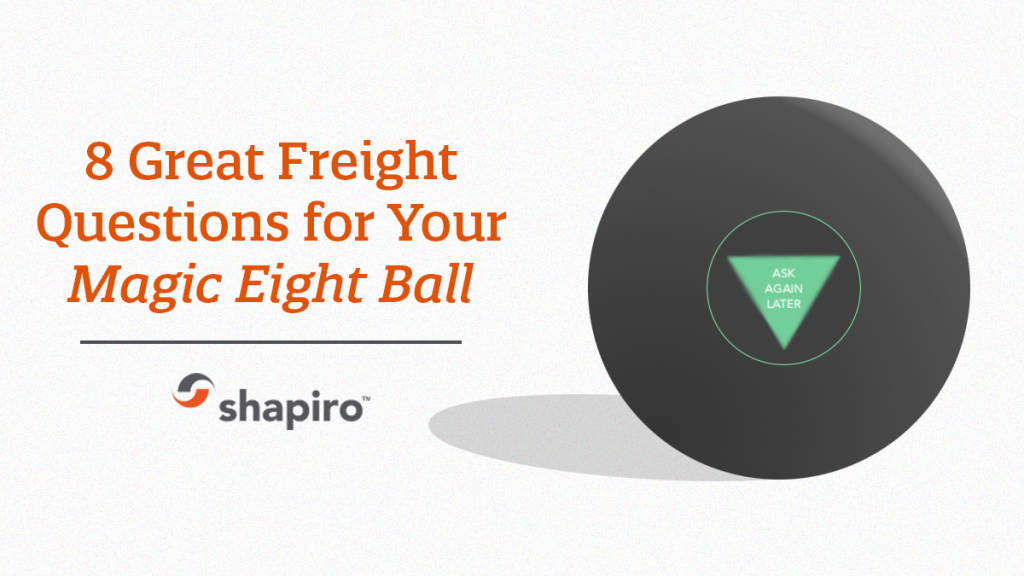 In 1950, the Magic 8 Ball hit shelves for the first time in the United States; this makes the magical icosahedron six years older than the era of cargo containerization.
How many of us predicted that we would ALL buy appliances, furniture, and exercise bikes?!
How many of us foresaw the Empire State Building blocking the Suez Canal?!
How many of us thought we would EVER pay $10,000 to move $15,000 worth of goods?!
Nobody. Nadie. Niemand. Personne. Méiyǒu rén.
At that rate, we might as well use a Magic 8 Ball to predict the coming freight realities in 2021 and 2022. Hey, that's not a bad idea… I mean it is filled with blue liquid like the ocean!
Oh, and before any of you market prognosticators scoff, 328 million Magic 8 Balls have been sold since 1950. That's one for every US citizen – come on, we know you have one in the back of that brand new dresser, wardrobe, or filing cabinet…!
---
Question #1: Will the NITL Succeed in Reforming the Shipping Act?
Context: The National Industrial Transportation League (NITL) has submitted several proposed reforms to the Shipping Act of 1984 to better protect importers on demurrage/detention, booking commitments, equipment availability, and a clear process to file carrier complaints. Not surprisingly, the World Shipping Council (WSC), which represents the steamship industry (an industry well-protected by antitrust immunity) said, "…there is no legislative policy that can change the systemic physical challenges caused by the COVID-19 cargo crunch."
2 Shakes of the Magic 8 Ball: 1. Don't count on It. 2. My sources say no.
---
Question #2: Will My Service Contracts Provide Me with Enough Allocation?
Context: In 2020, most importers were essentially abandoned by ocean carriers if they did not agree to the infamous "mutually agreed" PSS (peak season surcharge). For 2021 contract negotiations, the vast majority of deals are openly subject to PSS, and the carriers trimmed MQC (minimum quantity commitment) for unfavorable lanes and cargoes.
2 Shakes of the Magic 8 Ball: 1. Reply hazy, try again. 2. Ask again later.
---
Question #3: Will I Be Paying Close to FAK Levels on My Service Contracts?
Context: Pundits estimate that 50% of the current market is moving on "premium" rate levels, with the rest of the market split between contracts and FAK (Freight All Kinds). This will put tremendous pressure on the PSS clauses of most contracts, and we have already seen FAK spike in May.
2 Shakes of the Magic 8 Ball: 1. Signs point to yes. 2. It is decidedly so.
---
Question #4: Can I At Least Expect a Return to Normal Drayage?
Context: Dray turns are down 25-50% across the country thanks to equipment scarcity, port congestion, and splits. Dray turns "drive" driver pay. At the same time, the FTL business is booming in volume and rates; watch those draymen RUN to the FTL side of the house!
2 Shakes of the Magic 8 Ball: 1. My reply is no. 2. My reply is no!
---
Question #5: Will there be Labor Trouble in LA/LGB within Months?
Context: The current International Longshore & Warehouse Union's (ILWU) contract expires in July 2022. In the meantime, Total Terminal International (TTI) announced their decision to automate the 385-acre Pier T Terminal. 'Nuff said.
2 Shakes of the Magic 8 Ball: 1. You may rely on it. 2. Without a doubt.
---
Question #6: But Airfreight Rates Will Finally Come Down…Right?!
Context: YTD 2021 airfreight demand is about 16% higher than 2019, while passenger belly capacity is very slowly increasing. At the same time, the industry has only increased cargo flights by 2.74% in a year. Oh, and here comes the next iPhone in October!
2 Shakes of the Magic 8 Ball: 1. Outlook not so good. 2. Very doubtful.
---
Question #7: Will China Continue to Rebound for US Import Share?
Context: Despite tremendous tariff and freight cost headwinds, China got back to 2018 import volumes to the US in 2020. With cargo backlogs and pandemic-related production problems in many other countries, China is poised to be a go-to production location for years to come.
2 Shakes of the Magic 8 Ball: 1. Yes, definitely. 2. Outlook good.
---
Question #8: Will US Shippers Fare Better on Freight Budgets in 2021?
Context: A recent survey indicated that fewer than 2% of American businesses met or spent less than their freight cost budgets last year, with more than 10% indicating a spend of 300% or more (!). After hard-won experience in 2020 and early 2021 – and now that we have dusted off our Magic 8 balls – maybe we avoided living behind the 8 ball and nailed this year's budget?!
2 Shakes of the Magic 8 Ball: 1. Concentrate and ask again. 2. Cannot predict now.
---
Interested in reading more articles like this in the future? You can sign-up to receive the next edition of Supply Chain Reactions via our Subscription Center. (And did we mention it's FREE?!)
Employee of the Month